Erica McKenzie, Rn hid a lifelong battle with addiction and body image until it ended 20  years ago when she collapsed to the floor unconscious.  Surrounded by death, she went on to have an extraordinary near-death experience (NDE), in Heaven, Hell and the in-between. Erica returned with a new mission but first she would endure many challenges that would test her faith and connection with God and which began with learning to love herself and heal her life.  She spent days in a psychiatric facility after telling a doctor about her NDE.  Without any previous history of mental illness, at age 31, she found herself on a list of anti-psychotic medications and separated from her children.
This medical treatment caused her to question the education protocol used when assessing experiences like the NDE in the healthcare system.  She identified the need for an increase in education regarding such experiences and implementation of a spiritual component to healing protocol as a nursing student, and now years later as a patient. 
Erica's NDE profoundly transformed how she views life and death, and how she now lives her life. From her experience, she learned to identify and eliminate potential "roadblocks" to healing from the after-effects of transformational life experiences. She demonstrates how to shift our perception of these experiences, viewing them as learning opportunities that if we choose, can become powerful tools of healing and awakening.
Encouraging others to share their experiences.
Erica is dedicated to encouraging people who have had a near death, or some other non-ordinary experience, to communicate about their own experiences.  In sharing her story, people have contacted her from all over the world with questions. Many have graciously opened their hearts, sharing their personal experience and how it has changed their lives. Those stories have inspired her to work as a team with other experts who see the value in learning from these experiences. 
Grateful for the opportunity!
She's been labeled one of the up and coming inspirational "new thought leaders", from a recent guest appearance on the Dr. Oz Show, to sharing the Global Stage in Hungary at the International European Conference Spiritual Emergence Network.
Empower others by doing what empowers you!
Erica's dedication to helping others recently gained the attention of Rolland Griffiths, Ph.D., Head of Johns Hopkins University School of Medicine States of Consciousness Research Team Medical/Neurology/Psychiatry and Behavioral Sciences Department.  He extended her an invitation to serve as the ambassador for their  anonymous, web-based, global survey study regarding Near Death or other non-ordinary experiences.
I'm passionate about advocating for others.
Erica is Respected and sought out by numerous experts in the medical, scientific, spiritual, education and business communities, desiring to study and learn from her experiences, ability to heal her life in all areas of body, mind and spirit, and helping others to do the same. 
Find healing through sharing.
She continues to share lessons learned regarding the subjects of the afterlife, the after-effects that accompany such experiences, and healing from these transformational experiences.
As a medical expert, her unique qualifications stem from her life-long personal experiences of phenomena which encompass after-death communication, orb sightings, OBE's, ability to receive messages from Spirit, empathic abilities, premonitions, visitations and a NDE.  She has researched and conducted a multitude of personal interviews with experiencers and experts in these areas.
Erica is an advocate for a consciousness-based approach to healing.  She utilizes her 25 year background in healthcare, research, investigative journalism, her unique abilities and her NDE to help to increase public awareness of transformational experiences and our ability to achieve personal healing in all areas of our lives.
Erica is the author of the book Dying to Fit In, and continues her research by collaborating with other experts and conducting interviews that encompass the afterlife, after-effects of transformational experiences, near-death experiences and other non-ordinary experiences, and medical health and wellness. 
Her goal is to work as a team to enlighten others by revealing the healing power in other people's stories.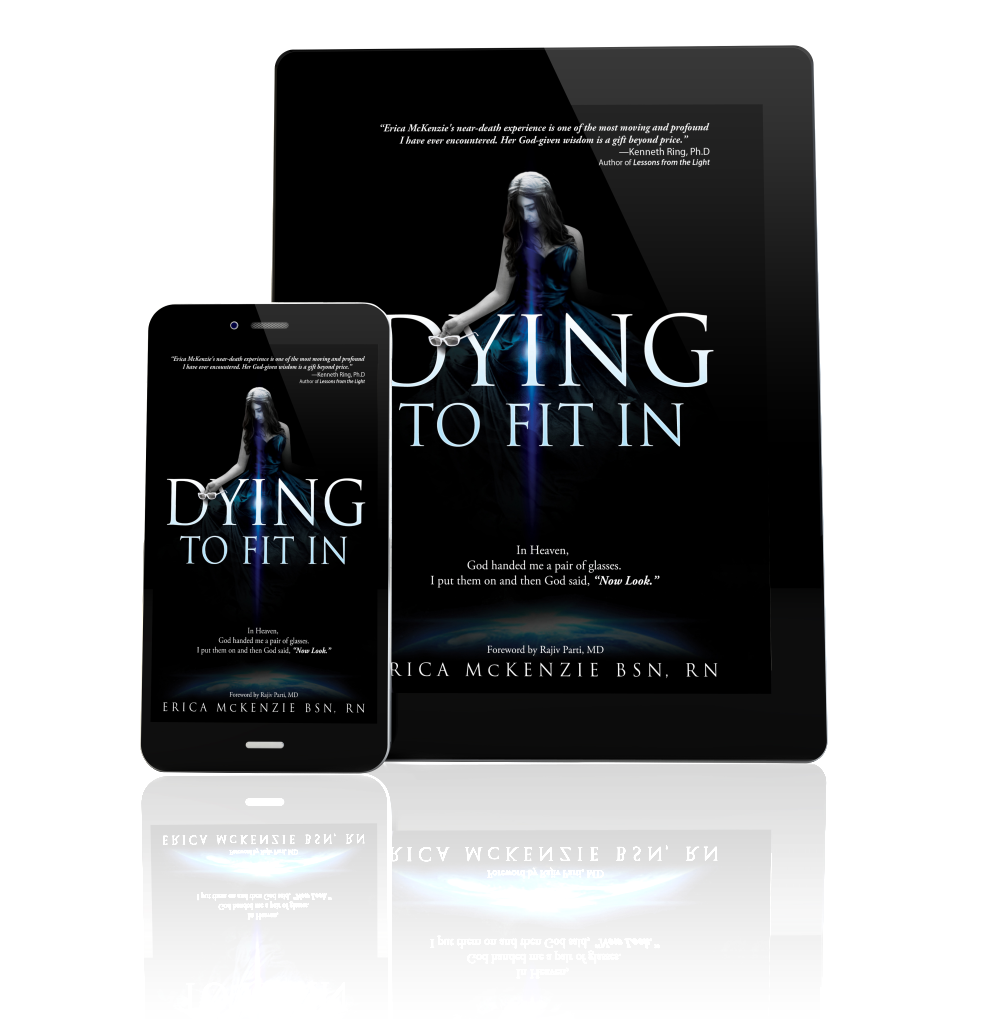 I'm so grateful you landed here.  I want to support you on your journey of spiritual growth and understanding that you are important.  You are unique.  You are valuable and most of all you are loved!
I hope that my book, blog, talks, interviews and other resources help you to find your own connection that fills you up with joy, love and light. 
Important:  Although Erica is extremely grateful for every single message she receives, please note that due to the large volume of media that she receives, it is not possible for her to reply personally to everyone.
If you would like to send Erica an email, have media queries, or are interested in extending an invitation for her to present or speak at your event, her address is:  [email protected]